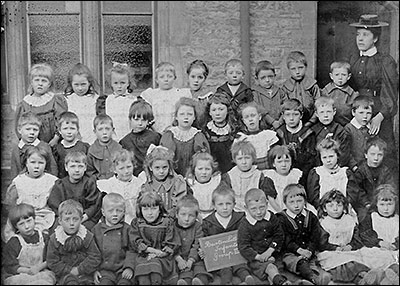 Church School Infants
1901
Below:
Church School Boys and
Girls - Boys having
haircuts 1909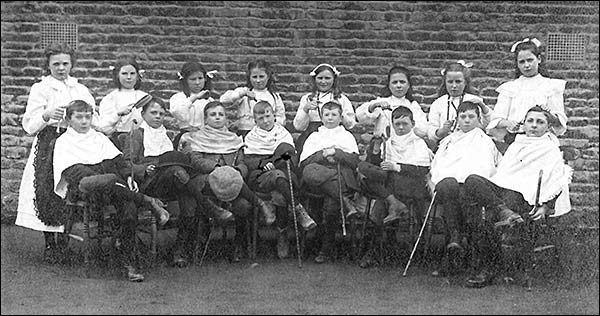 This photo appeared in a "Down Memory Lane" feature in the local paper
under the heading "Any more for a short back and sides?"
You didn't have to queue for your haircut way back in 1909, not if you were a pupil
at Burton Latimer C of E School anyway. These lads were being trimmed up by the girls
before taking part in a concert party. The girls were Mary Crump, S Evans, D Campian,
M Philips, L Panter, (?) Burgess, (?) Branagan, (?) Matthews. And the lads receiving the
tonsorial treatment were W Fox, A Turner, A Bulley, W Stickley, A Tailby, G Fletcher,
R Buckby, J Mason.
In 1903 the first Foundation Managers were appointed for the Endowed Schools by order of the Board of Education, when the Rector and three members of the then Managers were selected.
In 1908 the Church Managers reported that they received notice of the intention of the County Council to build a new council school for 180 infants, adjoining the Board School in the High Street.
In 1915 there is reference to a letter from the LEA regarding the closing of the Finedon Road Infants School, presumably due to lack of pupils (according to the figures from the registers, this was a constant threat). The school managers resolved to keep the school open on account of the distance infants would have to walk to another school. They decided that economy could be effected by reducing staff. This school did, in fact, cease to exist as an infant school in later years.
Miss Marcia Hodson (pictured above) continued teaching until the age of 66. To read her obituary click here.

During the 1930-50's the Board School became known as The County Mixed School or "The Council School". To read Tony Palmer's memories from the 1940s-50s click here.
In 1951, in order to keep the Church of England School under its jurisdiction, St Mary's Church PCC aimed to raise £5,250 which was half the sum necessary to fund structural alterations to the premises under State-aided status. (Click here for newspaper report)