The first record of teaching in Burton Latimer is found in the Parish Church Registers for 1596 and 1602 as the following extracts show:
"That the firste day of Aprill Everard Pie began to teach children in Burton Free Schoole and there taught as hushyer sixe years and a half."
Note: Hushyer – a subordinate teacher or assistant in a school.
"Humfrey Stevens, Master of Artes began to teach children in the Chancell of Burton the 30th day of September 1602 and Everard Pie being hushyer to the said Humfrey began then also to teach with him. The said Everard had taughte as hushyer of the Free Schoole there six yeares and a a half than last before."
Burton Latimer was one of the first villages to possess a Grammar School. The school was endowed with £47 per annum arising from 10 acres of land and a house left in 1589 by Margaret Burbank, and an annuity of £7 under a decree of the court of chancery. Margaret Burbank settled lands to the use of a schoolmaster to teach a free grammar school. A schoolhouse was conveyed to trustees by deed of 21 June 1588 by William Vaux, Lord Harrowden and George, his son. An annuity was payable to the schoolmaster out of a farm at Burton Leonard and the school also received the rent of seven cottages, which were formerly the poor house belonging to Scott's Charity, founded by William and Agnes Scott about 1514. The school was built in 1622 to teach boys Latin and Greek. The architecture is comparable with that of Grammar Schools of a similar period at Uppingham, Oundle and Oakham, all of which grew into Public Schools.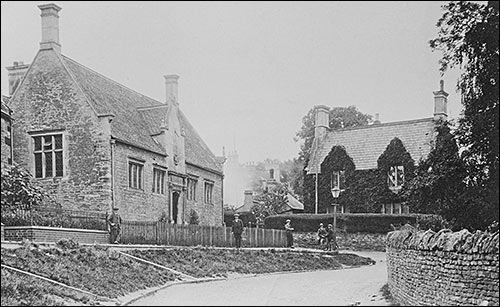 The school, which was erected in 1622, is situated to the NW of the Church (Click here for Town Trail point 4) and is a rectangular seventeenth century building of Weldon ragstone. It consisted of one room measuring 44' x16'. It had a fine oak roof of five bays. The front to the road has four mullioned windows and a good central doorway, above which is a curved gable breaking the roof-line and containing a panel inscribed (see below):
"The Free Schoole was founded

by Thomas Burbanke and

Margaret his wife 1587

Memoria: ivsta. Benedicta. Pro"
Over each of the windows is an inscription as follows:
1. "Ex dono Johannis Michel
2. Donum Johannis Bariffe 22
3. Georgius Plowright me dedit 22
4. W Carpes citius quam imitabereis. N."
Note: The figures and letters at the beginnings and ends of lines are dates and initials ie 1622 twice, and W.N.)
The larger three light end windows have the middle light heightened. The school commenced as a Free Endowed Grammar School, was known as the Free School in 1849, £25 per annum. At that time, also, a new Girls' School was built by subscription and supported partly by endowment and partly by subscription. Other references have been found to Girls' Schools in the village in 1849, and in 1866 a girl was admitted to the Mixed School having attended Miss Barber's School. Other girls were also admitted to the school having previously attended private schools. There is also a reference to an Academy of Young Ladies and a Seminary in 1861 but I have been unable to find any evidence of these establishments.
Appendix B gives a list of Charities connected with the schools and the village in the year 1849. This is taken from "Whelans Directory of Northamptonshire" and states that "There are few rural parishes can boast of so many important charities."
Apparently little change took place in education in the village until 1862 when a room 44' x 16' was constructed on his own private property by the Rev D B Bevan for the purpose of holding cottage lectures and a Sunday School. This was later removed to make a new burial ground and the school concerned was transferred to the Rectory grounds where it was known as the 'Orchard Room'. This, which was described as a Girls' and Infants' School, together with the Free School, was sufficient for those attending school as there was no compulsory attendance.