The Hart & Levy factory was built in Bakehouse Lane in 1884, and was originally named "Gladstone Works". The factory was one of a number of Hart & Levy businesses, which started in 1859 and were a direct result of the partnership of the Hart and Levy families after the marriage of Joseph Levy, brother of a successful Leicester outfitter, with Cordelia, niece of Maurice Hart, a successful tailor and outfitter in Canterbury. Both families were in the retail side of the clothing trade, but saw the clear potential of having a partnership running a wholesale business on the supply side. Joseph Levy was joined by partner Israel Hart, son of Maurice Hart.
The first Hart & Levy factory was opened in 1859 in Wharf Street, Leicester. By 1884, the business had expanded to the extent that they could open the new factory in Burton Latimer, followed by another in Nuneaton in 1890. The main sources of business for the firm at this time were the south of England, the Home Counties, and East Anglia. Finding difficulty in establishing trade in the north and north-west of England, they adopted the then unusual step of opening their own proprietary shops in various areas in the northwest, under the imposing name of The Grand Clothing Hall, thus establishing direct contact with the buying public. By 1895 there were no fewer than eighteen of these shops, spread across the north Midlands and areas further north, such as Rochdale, Sheffield, Preston, Warrington and Derby.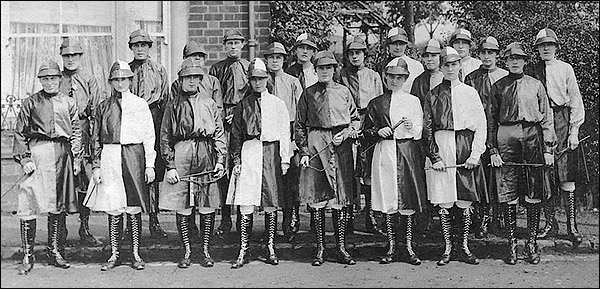 Burton Latimer Hospital Parade, July 27th 1918 - Hart & Levy's Lady Jockeys
Names: Back row: Beat Walker, ............? Glad Hodson, N Geagen, C. Pinnock, Rose Hull,
"Ted" Walker, ............? Mabel Evans, Doll Main, ............? ............?
Front row: May Whiteman, Ede Sturgess, Gertie Parker, Nellie Brennan, Hilda York,
Neta Craddock, Lizzie Dickens and Eve Main
The business continued to thrive in the period before the First World War, and when the hostilities came, production was naturally switched to meet government contracts for clothing for the army. The firm successfully weathered the depression years in the late 1920s and early 1930s, and in 1936, a key decision was made to extend the management of the firm beyond members of the Hart & Levy families. A Mr J A Holland of Leeds was appointed managing director.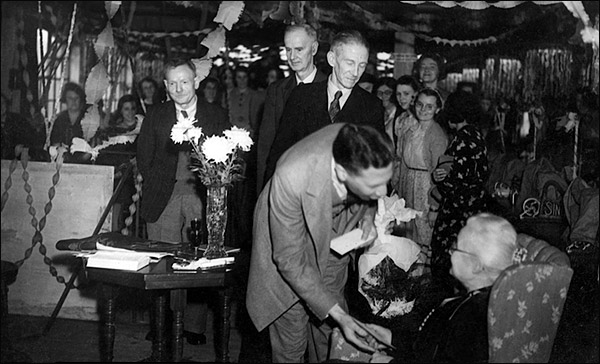 December 9th 1941: presentations were made to Mrs Williams, Mr Currant and Mr Turner.
Mrs Williams received an armchair and a cheque,
Messrs Currant and Turner had a gold watch and a cheque
A further external appointment was made in 1947. Mr H L Moore had been managing director of John Barran & Sons Ltd of Leeds. He became the new managing director of Hart & Levy. Over the next few years, the company continued its development with upgraded machinery and production methods. The Nuneaton factory was considerably extended and two new small units were opened in Tamworth. A small works at Crewe was also acquired. Unfortunately, there was increasing difficulty in recruiting proper manpower in the Midlands, and therefore the firm acquired a factory in Liverpool and extended that.

John Baish, born 1929, has written an account of his boyhood memories of growing up in Burton Latimer. The names and items he remembers about Hart & Levy's clothing factory include:
Managers : Late 1930s and mid-1940s Mr "Geggy" Gilbert; late 1940s Mr John Kirk and then Mr Eddie Knighton
Office: May Jackson (in charge), Sheila Stapleton
Boiler man & caretaker: "Bammy" Panter
Pressers: Jack Chester, Eddie Panter, Bob Grainger, George Braines.
Cutters/Trimmers: Bernie Twelvetree, Arthur Miller
Canteen cook: Amy Sellars. Amy's dinners were quite famous, hence many workers from other factories in the town would come to Hart & Levy's for their dinners.
Also very popular were the Friday or Saturday night dances held in the canteen – music played by the Jos Spanton Duo.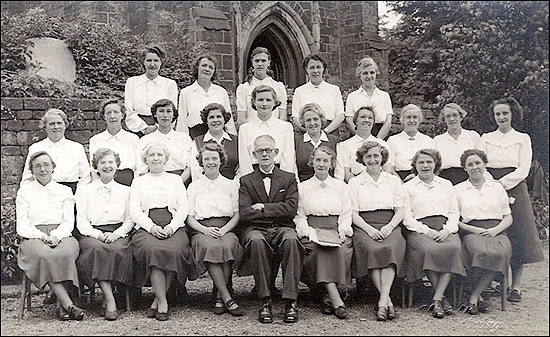 Hart & Levy Ladies Choir 1952
Back row: Mrs Archer, Mrs Hilda Watson, Miss Jeanette Twelvetree,
Kit Martin, Mrs. Kath Drage.
Middle row: Mrs Brace, Mrs Chrissie Mason, Mrs Evelyn Linnell, Mrs Connie Tomblin,
Miss Eunice Morley, Mrs Bates, Miss May Jackson, Miss Eva Stokes,
Miss Alice Buckby, Mrs Delph Cooper.
Front row: Mrs Maggie Tailby, Mrs Annie Rowe, ............? Mrs Roma Thorne,
Mr Bernard Twelvetree (conductor) Mrs Ada Woods (accompanist)
Mrs Phyllis Keach, Mrs Doris Brace, Mrs Phyllis Martin.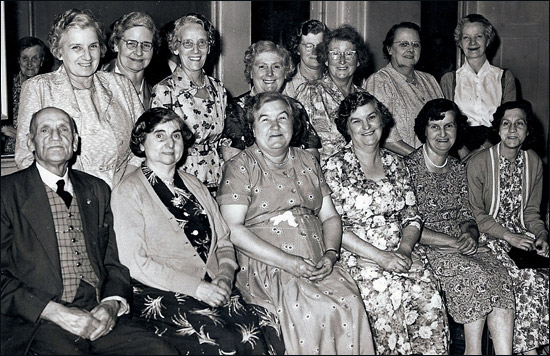 The venue was in Leicester. This is thought to be an employees' long service event
Back row: Mrs (Kathleen) Mary Judd, Miss Connie Wade, Miss Alice Buckby,
Mrs Gladys Law, Mrs Irene Rickards, ………..? ………..? ………..?
Seated:………..? ……..? Mrs Maud A Atkins (née Rickards), Miss Dora E Rickards,
Mrs Mabel L Cholerton (née Rickards), Mrs Dorrie Coleman.
At all Hart & Levy factories, attention was paid to providing canteen, welfare and other facilities. As can be seen from the photos above, the firm promoted a lot of employee social activity, and participated in Burton Gala Days. Unfortunately, all this was little protection against the downturn in manufacturing which was so characteristic of both the clothing and shoe industries in Burton in the 1960s-80s. By 1965, the Burton factory had become part of John Barran & Sons. It subsequently passed to Leader Brothers, but this only prolonged the final demise, and within two years clothing manufacture ceased. The factory was used for a short period by Benford Hi-Fi, then stood empty. While in this vacant condition, a serious fire occurred. The factory was gutted and had to be demolished. Housing now stands on the site of the substantial factory where so many workers once made high-grade blazers and children's overcoats.
Click here to read more about the clothing industry in Burton Latimer
Click here to read Godfrey Bigley's memories of working at Hart & Levy's in the 1960s