Frederick Payne, my uncle, was born 27 January 1910 in Burton Latimer, to Alfred and Charlotte Payne. He joined the Church of England's Church Army in 1928, and one of his first tasks was speaking at Speakers Corner in Hyde Park, London. In 1930 after receiving his commission as Captain, he volunteered to go to Canada to work for the Church Army in Ontario. When he arrived it was during the great depression and Toronto had 6000 homeless people. He set up a hostel which housed 450 people a night. In 1932 with the British Empire conference in Ottawa he was asked to set up a hostel to keep all the homeless off Parliament Hill. Such was his success that when the conference took place there wasn't a single man left on the hill. In 1934 the Army asked him to run a boys home in Winnipeg, this wasn't immediately successful, as all 20 boys ran away. Needing help, he wrote to his fiancé, Rita, to help him, she did, they got married and in an interview in later years he said that he must be the first man to present his wife with 20 children on the first week of their marriage. Their marriage was a happy one, both doing what they loved, which was helping the Community. Their only daughter, Charlotte, named after his mother, was born in 1936. In 1940 he took a year off to complete his ecclesiastic studies and in 1941 he was ordained a priest in the Anglican Church. His parish was in Lyn until 1950 when he transferred to St. John's in Prescott, Ontario. He stayed in this Parish for 28 years until his retirement, and whilst he was there he was made Archdeacon of the St. Lawrence and then the Venerable Fred Payne. Although he retired he continued to serve the Church and served as interim minister at the Episcopal Church in Ogdensburg for three years and finished his active parish work as rector of the Episcopal Church in New York. After this he continued to act as locum for Rev Gerry Ring at St. John's.
He did manage to come back to England on a few occasions (see note below) to see family and friends, (1961 article) the most memorable of which, was to perform the marriage ceremony at his younger brother Maurice's wedding to Mary Sturgess at Burton Latimer Parish Church in 1969 .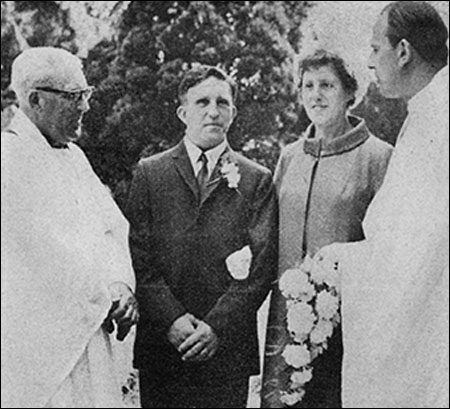 He died on the 19 July 1997 at St. Vincent de Paul hospital in Brockville, Ontario. He left his wife Rita of 62 years, daughter Charlotte, and grandchildren Mark and Jennifer. He was well loved by the local community and this was shown by the many members of his parish as well as Church dignitaries from the State who attended his funeral.

(Note - August 1954 - extract from Rev R W Sharpley's letter in the church magazine)
"The Rev F Payne sent me a card just as he embarked on the "Samaria" and I hope to have a message from him for next month's magazine. How much we all enjoyed his visit. I know your prayers will be with him as he returns to his own parish. One souvenir he took is a "sally" from one of our bell ropes - such adornments are unknown in Canada."