The Priory of Bradenstoke (Wilts) had property in Burton Latimer by 1222, including a mill called "Byggemull" (big mill?). A pre-1234 document at the National Archives records a grant of 40 shillings rent owed by Aubrey de Burtoun from the mill of Burtoun (Burton Latimer) but it is unclear to which of the two water mills these refer.
1. North Water Mill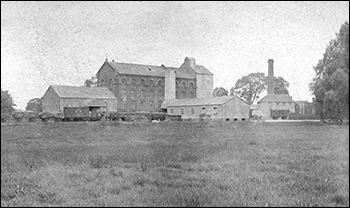 Situated on the River Ise just north of the road between Burton Latimer and the A509 north of Isham. It is marked on Bryant's 1826 map as 'silk mill' and as 'woollen mill' on the 1867 Ordnance Survey map. It appears to have been used for various types of textile manufacture until the 1860s. According to a list of estates in Mr. Harpur's manor, in 1733 John Belcher occupied a fulling mill, which in 1752 was taken over by Joseph Wallis. In the late 1700s the mill was being used for cotton manufacture and in fact, a newspaper report of a robbery in 1812 refers to it taking place in Cotton Mill Lane. When the Burton Latimer Inclosure Award was made in 1803, the map shows the water mill with land alongside belonging to Martha Wallis. Silk was manufactured there from 1818 to 1827 and the manufacture of worsted cloth and carpets took place in the mid-1800s. By 1866 J & T Wallis were described as having flour and mustard mills there. During the 1870s John and Thomas Wallis operated flour, chicory and mustard mills there with an office in Newland Street, Kettering. In 1877 there was conveyed to Thomas Wallis a meadow near the Isham road on which was a tramway connecting Wallis's Mill to the Midland Railway (
To read a letter about mill improvements in 1877 click here). In 1881, Burton Latimer Flour Mills, situated about midway between Wellingborough and Kettering, were advertised to be sold by auction. They were described as newly erected with eight pairs of stones driven by a 50hp steam engine and water power. The mill consisted of five floors and immediate possession could be given. By 1920 T & J Wallis Ltd. were listed again.
In 1928 both T & J Wallis Ltd. and Whitworth Bros. were shown as millers at Burton Latimer but soon afterwards the mill was disused. About 1932 four South African Seventh Day Adventists, Scutton, Vermass, MacFarlane and Osborne set up the British and South Africa Cereal Company to market a product they called Weetabix and which they had been selling in South Africa. They rented the disused buildings from Whitworth Bros., buying the wheat for the 'biscuits' from the same source. The South Africans did not make a success of the venture and after a few months an advertising agency took them to court for a £1,000 bill, they also owed Frank George, of Whitworths, money for wheat and eventually he took over the company as a bad debt, and took the product Weetabix too. From then on it began to thrive.
Click here to read more in detail about Weetabix
2. South Water Mill
Also situated on the River Ise, the mill was just north of the junction of the roads from Burton Latimer and from Finedon to the A509 between Isham and Little Harrowden. Marked, together with nearby the windmill, as 'Burton Mills' on the 1867 Ordnance Survey map. In 1626 there was a settlement on the marriage of John Ekins and Mary Maydwell of the manor of Isham, farms and a water mill in Burton Latimer. Later, a covenant of 1639 to levy fine by way of mortgage by John Ekins and trustees to John Atkins on the manor of Isham and a water and a windmill in Burton Latimer. Both mills, with other property were conveyed from George Udny to Thomas Garratt in 1764 – except that John Harpur had the fishery and right of fishing in the mill dam, mill tail etc. In the 1777 Militia List, Samuel and John Garratt are given as millers. Samuel Garratt insured his dwelling house and offices adjoining, with the water corn mill adjoining (but not communicating with) of stone, slated and thatched with utensils and stock for a total of £620. The following year it was Thomas Garratt who took out the insurance on the property but for a total of only £370. The mill continued to be known as Garratt's Mill until shortly after 1842.
By 1847, H Walpole was at the mill to be succeeded by William Abbott who, in 1854, advertised for a youth "to take second place in a Water Mill." A change of miller is indicated by a letter from J Walker of Burton Mill in 1863 about his right to fish in the Ise as a tenant to the Dolbens. Walker appeared in the directories until the end of the 1860s. James and Samuel Burr, farmers at Westfield Lodge, Finedon were corn millers at Burton Mill by 1874. The mill appears to have been bought by J L Wright, it was described as Minett & Wright's Flour Mill on the 1881 census schedule and Wright was listed as a miller here in 1885. In 1891, Mr Wright offered the property for sale with a residence adjoining the mill together with yard and stables, however he continued to be shown as miller there until at least 1898. In 1911 there was a fire at H Boulton's mill, near Finedon Station. This was caused by a spark from an engine situated outside the mill which supplied power when the water was low. It has since had other uses including sausage skin manufacture c.1914 and tanning. It was during this latter use that it was largely destroyed by fire in 1936 when it was in the ownership of CE & HB Groome Ltd. Demolition of the large mill building itself swiftly followed, on the grounds of public safety. No photos of the structure before the fire have so far been found. The remaining building on the site of the mill is now a private house.
For a "Down Memory Lane" view, click here
For a full account and pictures of the 1936 fire, click here
3. North Windmill
This was situated on the east side of the Cranford Road, about ¼ mile south of Black Bridge, at the junction with the old Kettering – Thrapston road. This is not shown on Eyre's 1779 map but is shown on Bryant's map of 1826. On the 1867 Ordnance Survey map it is marked 'Burton Mill' (whereas the south windmill and the nearby water mill are marked Burton Mills).
On the 1803 Inclosure map George Robinson is shown as its owner but, by the 1841 census, Moses Eady is recorded as living at the Windmill. In 1847, Whelan's directory list M Eady and C Eady as millers at Burton Latimer. In 1852 a thunderstorm destroyed the sails of the windmill belonging to Moses Eady. The damage caused by the lightning was estimated at about £40. The following year, Mr J Eady of Burton Mill was advertising for a youth to work in a wind and steam mill. Mr M Eady is named as a miller in a directory for 1854.
In 1884, Mr Eady of 'The Laurels', Burton Latimer was advertising that the windmill he owned was to let. It is possible that William Thomas Seaton succeeded the Eadys at this windmill as in 1889 he was served with a receiving order and in 1891 was published his first and final dividend of 2s 7½d in the pound to his debtors. Subsequently, in 1890, Walter B Bell seems to have taken over the mill and was there in 1898 when wind power was abandoned and the milling done entirely by steam power. From an advertisement in 'The Miller' for August 1884, the windmill was built of brick and timber. It had three pairs of stones, a dressing machine and smut machines. In 1900 it was auctioned at the Red Cow and sold to Mr. Jesse Fox for £305. Jesse Fox also occupied Hilly Farm around that time and was also landlord at the Horse & Groom.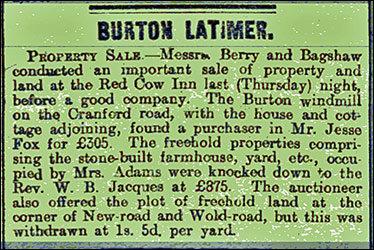 Jesse Fox could not have owned it for long before it was purchased by the Burton Ironstone Co. The company demolished the windmill around the time of the First World War but left the cottages which were occupied by its workmen. They were completely refurbished in the 1980s to provide modern residential properties. Click here to read a history of the cottages.
4. South Windmill
This windmill stood in the fields north-east of the back road to Finedon, about half a mile east of Burton Latimer south water mill. It was at the end of a lane starting from the road junction. A windmill is shown in this vicinity on Eyre's 1779 map but some distance from the location given on Bryant's 1826 map and the 1867 Ordnance Survey map where, together with the water mill it is marked 'Burton Mills'. The 1803 Inclosure map indicates that at that time the windmill belonged to Thomas Garratt who owned the nearby water mill. Other owners listed in directories are Joshua Craven, miller and corn dealer in 1874, and John George Cave in 1898. It is thought that the windmill was demolished a few years later. No photos of the mill have thus far been located.